DDHS students had the opportunity to participate in an outstanding cyber safety presentation by Sergeant Tom Rich who is from New Jersey.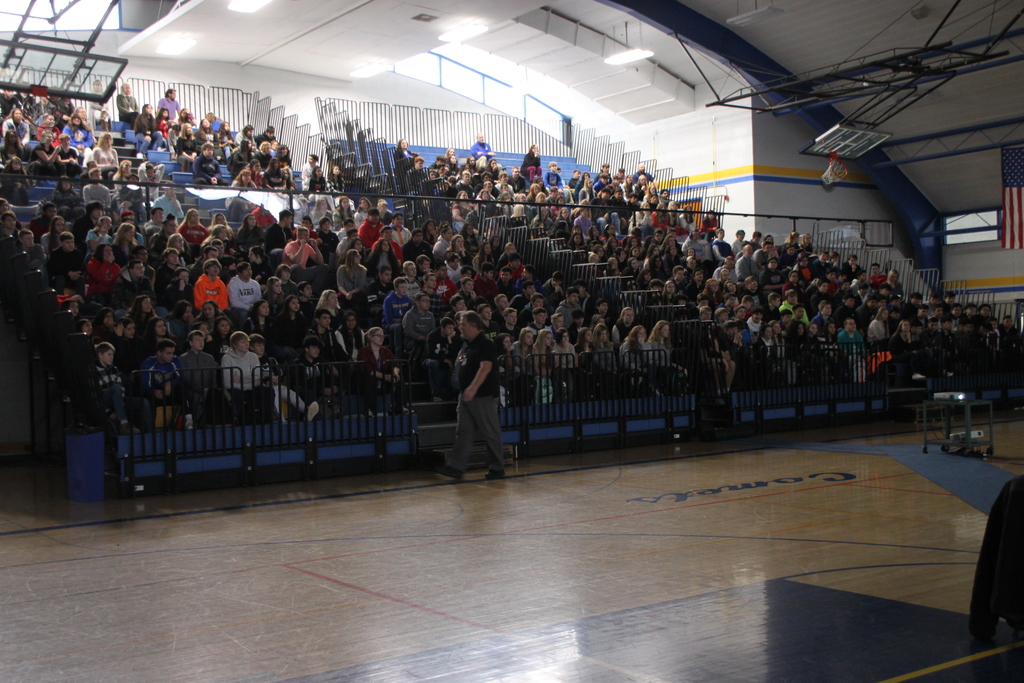 DDHS is proud to share that nine students have completed all three Hospitality courses & the Guest Service Gold exam to receive the Hospitality Essentials Certificate from Gateway Technical College. DDHS is the only high school to offer a certified instructor for the program.

DDHS Won the 2nd Annual Hunt Off Hunger Food Drive Campaign sponsored by the Walworth County Conservation Wardens.  This is the second consecutive year that DDHS has won the food drive by donating 1500 pounds of food to our St. Andrews Food Pantry right here in Delavan.

Join us in the DDHS Auditorium at 7 PM this evening for our Annual Holiday Choir Concert. Please consider bringing non-perishable food items, as well, to support our Hunt Off Hunger Food Drive.

All parents of DDHS students are invited to our Community Collaboration meeting tonight (12/02/2019), beginning at 6 PM in Quad 147 at DDHS. Please join us to learn more about what is happening at DDHS.

This Friday, Nov. 22, the DDHS Jazz Ensemble will be performing with the Badger High School Jazz Ensemble and the Northern Illinois University Jazz Orchestra at Badger High School at 7 PM. Tickets are only $5 and can be purchased from Mr. Stark or the night of the event.

Come join us for a free night of One-Act Plays in the DDHS Auditorium! - Saturday, Nov. 23 - 7 PM - Sunday, Nov. 24 - 2 PM We will be performing three short plays: * They Eat Sun Not Zebras * Lord of the Pies * We are Masks

We need volunteers for our Reality Fair on Tuesday, Nov. 20, from 7:45-11 a.m. at DDHS. Volunteers will help manage various table stations. If you wish to help out, please contact DDHS business education teacher Jodi Scott at 262-233-6634 or via email at
jscott@ddschools.org
.

Sept. 18 Homecoming Reminder - Parents/Guardians, please note that DDHS releases at 2 PM today for Homecoming Games. (Buses will run at 2:43.) We have Boys' Volleyball at 4 PM in the DDHS Main Gym today, followed by Girls' Powder Puff in Borg Stadium. The community is invited.

Picture Day at DDHS - Student pictures for the yearbook and parent purchase will be taken on Friday, September 13. Please remind your high school student to dress nicely that day for their yearbook and student identification photo.

Community Collaboration - We encourage and invite all DDHS parents to join us this coming Monday evening (Sept. 9) for our monthly Community Collaboration Meeting at 6 PM in Quad 147 here at DDHS. If you have questions, please feel free to call us at 262-233-6601.

SAVE THE DATE Freshman First Day Thursday August 22nd, 2019 8:00 –12:00 p.m. We look forward to meeting your incoming son/daughter for a day of fun. Activities include getting their lockers, meeting teachers, and getting an opportunity to become familiar with DDHS. (For specific questions email Ms. Parker at
kparker@ddschools.org
)

Parent/Athlete meeting 7/31 @6:00 pm in the High School Auditorium Learn about requirements to participate, fees and online registration Meet your coaches for the fall. Don't miss this exciting event Go Comets!


Memorial Day, Monday, May 27. Come out to the Parade to watch the DDHS Marching Band perform!

Jazz in the Park - Saturday, June 1 (3 PM)

DDHS AP Art Show & Pops Concert - Wednesday, May 22 (6 PM Art Show / 7 PM Concert)

DDHS Orchestra Concert - Tuesday, May 21 (7 PM)

DDHS Band Concert - Wednesday May 15 @ 7 PM

DDHS One Act Plays - Saturday, May 18 (7 PM) & Sunday, May 19 (2 PM)