News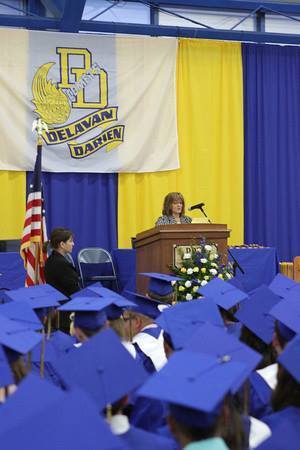 Save the dates for the 2020 Graduation Events: Graduation - Sun. June 7th at 3:00Scholarship Awards - Sat. June 6th at 1:00Picnic - Friday, June 5th
DDHS students Trent Hernandez, Zach Mortlock, Stephen Tolbert (Engineering Technology Design Competition) and Jordy Perez (Medical Terminology Competition) are currently in...

Congratulations to the Delavan-Darien High School for its' efforts in implementing an equitable, multi-level system of supports! Creating a system that meets the needs of...
SEE ALL NEWS
LIVE FEED

Monica Hudak
17 days ago
SAVE THE DATE
Freshman First Day
Thursday August 22nd, 2019
8:00 –12:00 p.m.
We look forward to meeting your incoming son/daughter for a day of fun. Activities include getting their lockers, meeting teachers, and getting an opportunity to become familiar with DDHS.
(For specific questions email Ms. Parker at kparker@ddschools.org)

Monica Hudak
25 days ago
Parent/Athlete meeting 7/31 @6:00 pm in the High School Auditorium
Learn about requirements to participate, fees and online registration
Meet your coaches for the fall.
Don't miss this exciting event
Go Comets!

DDSD
2 months ago
The DDHS 2019 Graduation Ceremony live stream is available here! Ceremony starts at 6:30pm.

Jim Karedes
3 months ago
Memorial Day, Monday, May 27. Come out to the Parade to watch the DDHS Marching Band perform!

Jim Karedes
3 months ago
Jazz in the Park - Saturday, June 1 (3 PM)
SEE ALL POSTS