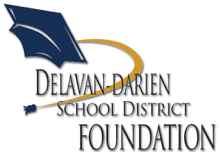 Please Support Our Schools!
DELAVAN-DARIEN FOUNDATION
The Delavan-Darien School District Foundation is a non-profit, tax-exempt organization established to raise funds for the School District of Delavan-Darien, its students, teachers, staff, and facilities. Contributions to the Foundation are tax deductible per Internal Revenue Service regulations and are used exclusively for purposes designated by donors. The Foundation is governed by a nine-member board of directors who approve all expenditures, grants, and scholarships awarded by the Foundation. Each director is elected on a three-year term and can serve no more than three consecutive terms.
GIVING
Giving to the Delavan-Darien Foundation means you are creating the opportunity for graduates to more easily succeed at reaching their goals and achieving their dreams.
Every dollar donated to the Foundation finds its way into the hands of a student to help offset the cost of post-secondary education.
Today's students find themselves needing more sources of funding to complete a college or university degree program. According to the Chronicle of Higher Education, about two-thirds of college freshmen surveyed in The American Freshman: National Norms Fall 2009 study said they were either somewhat or very worried about their ability to finance their college educations.
It is the Delavan-Darien Foundation's goal to help ensure DDHS graduates have a better opportunity to enroll in and graduate from an institute of higher learning. Through support of the Foundation, our community can help make that happen.
If you are interested in giving to the Delavan-Darien Foundation, or if you would like more information about the organization, contact a Foundation member.
If you shop online via Amazon.com, you can make a donation to the Foundation via the Amazon Smile program, too!
As a non-profit organization, each gift to the Delavan-Darien Foundation is tax deductible.
EVENTS
The Delavan-Darien School District Foundation invites those 21 and older to its annual "Blue & Gold Bash" dinner, silent auction and interactive audience gameshow event to benefit our scholarship programs.
This is the main community fundraiser for the Foundation.
The event features chef-attended dinner stations, dessert station, wine, and microbrew beer tasting, music, interactive trivia games for prizes, a raffle drawing and silent auction with online pre-bidding.
This event is typically held in early November at the Rosewood Dinner Theater. Ticket prices are $40.
All proceeds generated from this fun and tasteful evening go toward scholarships for graduating Delavan-Darien High School seniors.
SCHOLARSHIPS
Since 1972, the Delavan-Darien School District Foundation has been the principle provider of locally-funded scholarships to graduates of Delavan-Darien High School.
Each year, more than 50 scholarships worth more than $50,000 are presented to DDHS graduates.
The range of scholarship awards is broad, extending from $250 awards to the Bohn Family Scholarship, which totals $10,000.
Students must meet certain eligibility requirements when applying for each scholarship. Students who meet the necessary qualifications to be considered for scholarships are encouraged to apply. Information about each Foundation scholarship can be found in the database below.
No student shall, on the grounds of race, color, religion or national origin, be excluded from participating in, be denied the benefits of, or be subjected to discrimination under any scholarship sponsored by the Delavan-Darien School District Foundation, Inc.
Scholarship recipients are selected by the Foundation in consultation with school district administration and scholarship providers.
CRITERIA FOR FOUNDATION AWARDS
The following general criteria are considered in awarding scholarships and awards:
Promise as a student and rank in the upper half of the graduating class.

Participation in the co-curricular activity program, which in some cases may be specific depending upon the wishes of the donor.

Other characteristics to include sincerity of purpose, and evidence of good school and community citizenship.

Financial need is considered when all other qualifications are equal.

Foundation scholarships are payable in the fall of the year when the Foundation Treasurer has received a fees paid receipt or a letter from the registrar as proof of enrollment, unless otherwise specified.
For more information about Foundation Scholarships, contact the DDHS Student Services office at 262-233-6647.
SEND A GIFT
Gifts should be made payable to the Delavan-Darien School District Foundation and sent to:
Delavan-Darien School District Foundation
PO Box 582
Delavan, WI 53115-0582
Gifts can also be delivered to a Foundation member, or dropped off at the Delavan-Darien School Administration Center, located at:
324 Beloit St.
Delavan, WI 53115 (map)
(open 7 a.m. – 4 p.m. school days)
Either on the memo line of your check or on a separate note, you can indicate if you want your gift to go to the General Scholarship Fund or to a specific scholarship fund.
If you wish to establish a new scholarship, please contact the Foundation's Executive Director, who is available to assist you with development of criteria and formatting of the scholarship.
All gifts to the Foundation are tax deductible and will be acknowledged in writing with a receipt of your donation.