DDHS Algebra II students enjoy a day of social distancing outdoors while completing a mathematics scavenger hunt. Social distancing is keeping our students & staff safe. Thanks to all personnel for properly wearing their masks.

Please use this link for important updated information from our Activities & Athletic Department pertaining to fall sports in the Delavan-Darien School District and the Southern Lakes Conference:
https://5il.co/l0ru

The Delavan-Darien School District is proud to announce that two students from Delavan-Darien High School have been named as 2021 National Merit Scholarship semifinalists. Seniors Michael Cobb and Breanna Yartey are two of 16,000 students from throughout the nation to be named as semifinalists for this prestigious scholarship opportunity. Michael and Breanna represent less than one percent of U.S. high school seniors which includes the highest scoring entrants in each state. Three types of Merit Scholarship awards will be offered in 2021: National Merit $2,500 scholarships, corporate-sponsored scholarships, and college-sponsored scholarships. Merit Scholarship winners will be announced in spring 2021. According to the National Merit Program's website "The National Merit® Scholarship Program is an academic competition for recognition and scholarships that began in 1955. Approximately 1.6 million high school students enter the program each year. High School students who meet published program entry and participation requirements enter the National Merit® Scholarship Program by taking the Preliminary SAT/National Merit Scholarship Qualifying Test (PSAT/NMSQT®) at the specified time in the high school program, usually as juniors. Each year's PSAT/NMSQT is the qualifying test designated for entry to a particular year's competition. For example, the 2019 PSAT/NMSQT is the qualifying test for entry to the competition for scholarships to be awarded in 2021."

I am very excited to be taking on the role of Head Coach for the upcoming Cross Country season. Before arriving in Delavan 17 years ago, I was the Boys/ Girls Cross Country Coach for 8 years in another district which also happened to be called the COMETS. I also coached the DDSD distance runners for a span of 6 years a number of years ago. I am very passionate about running and excited at the opportunity to instill the drive, commitment, and confidence in becoming a distance runner. It's Never too late to sign-up!! -No benches, No subs, No half-time, No time-outs ...Welcome to Our World. -Coach Wrubbel

Attention Boys & Girls Cross Country Runners! Practice will begin this Monday, August 31! See the photo for time and place.

This morning the staff at DDHS welcomed the Graduating Class of 2024 to preview the high school. Students were introduced to all the DDHS staff members and had a chance to take a tour of their new school. #CometProud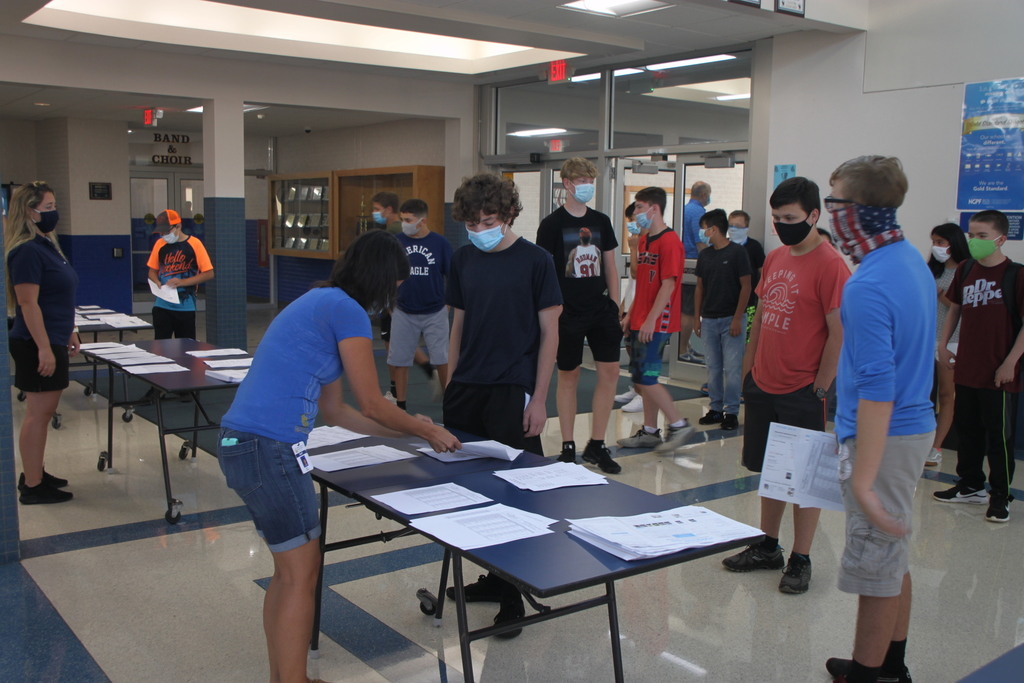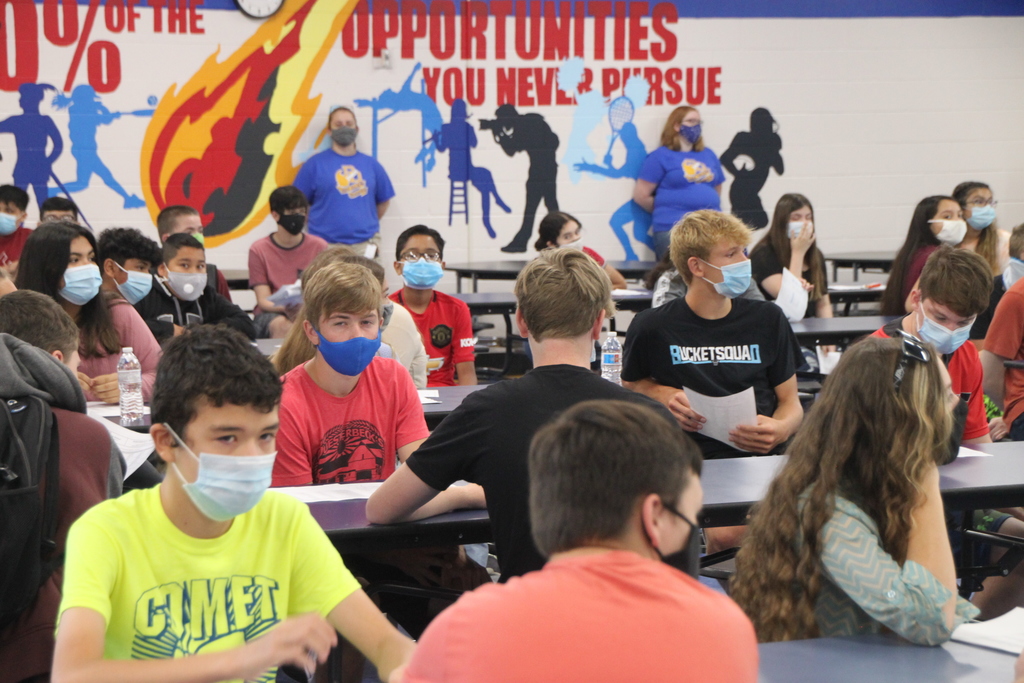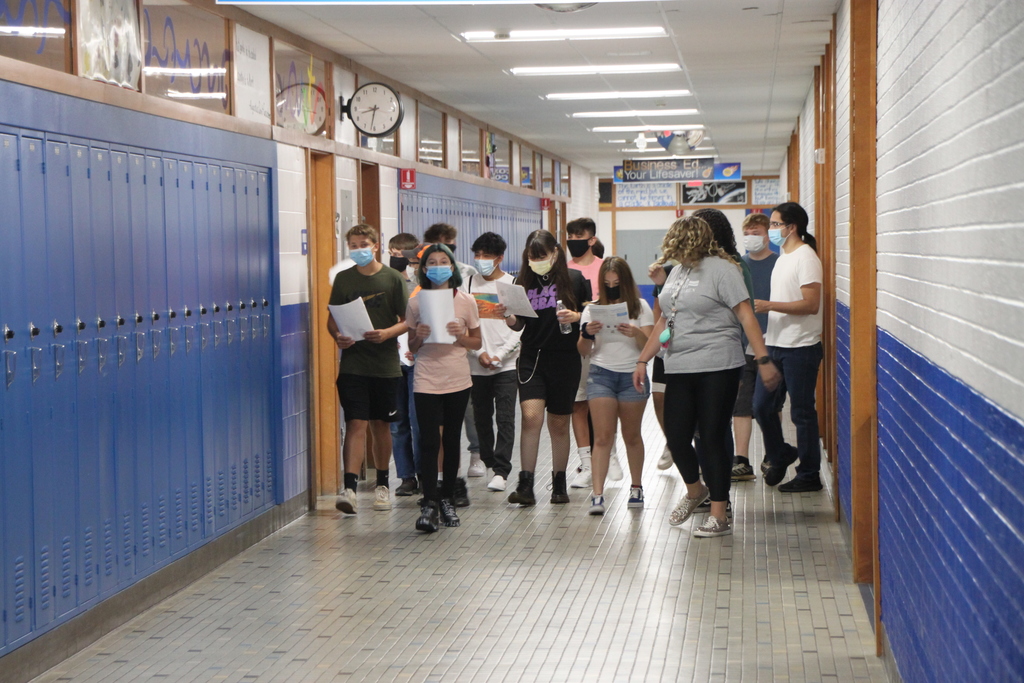 Attention DDHS Boys & Girls Cross Country Runners. Practice has been suspended until further notice.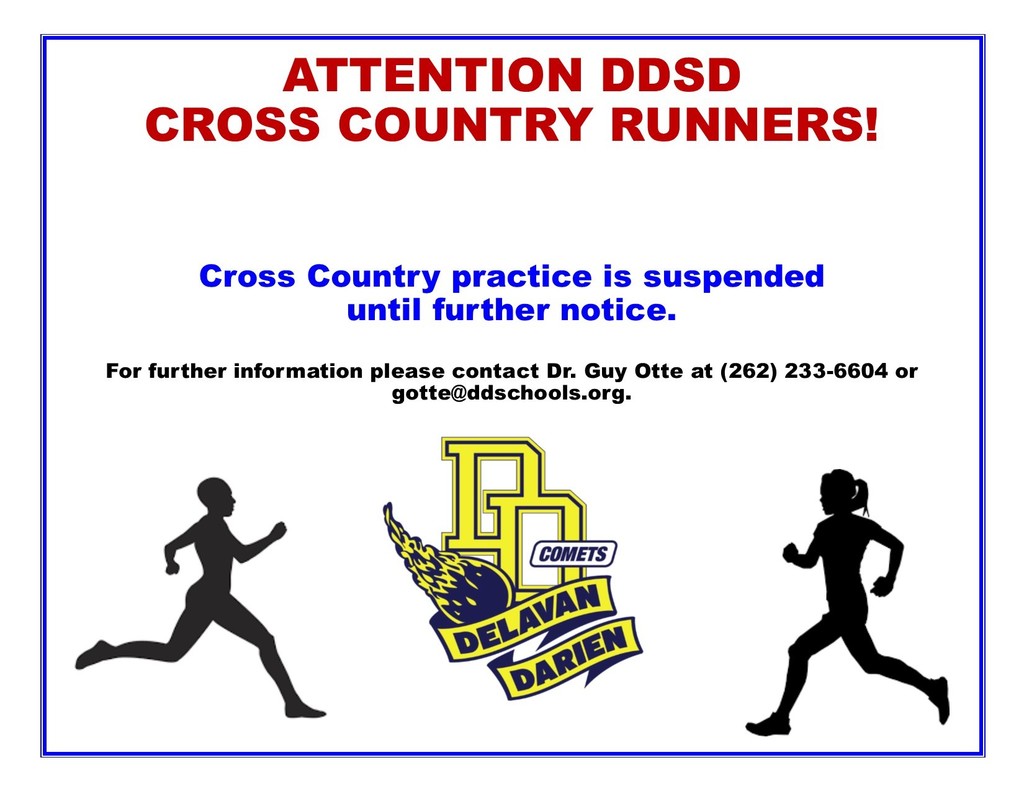 DDHS is hosting a Freshman First Day event on Thursday, August 27 from 8am to 10am. Please use this link for more information:
https://5il.co/jg6b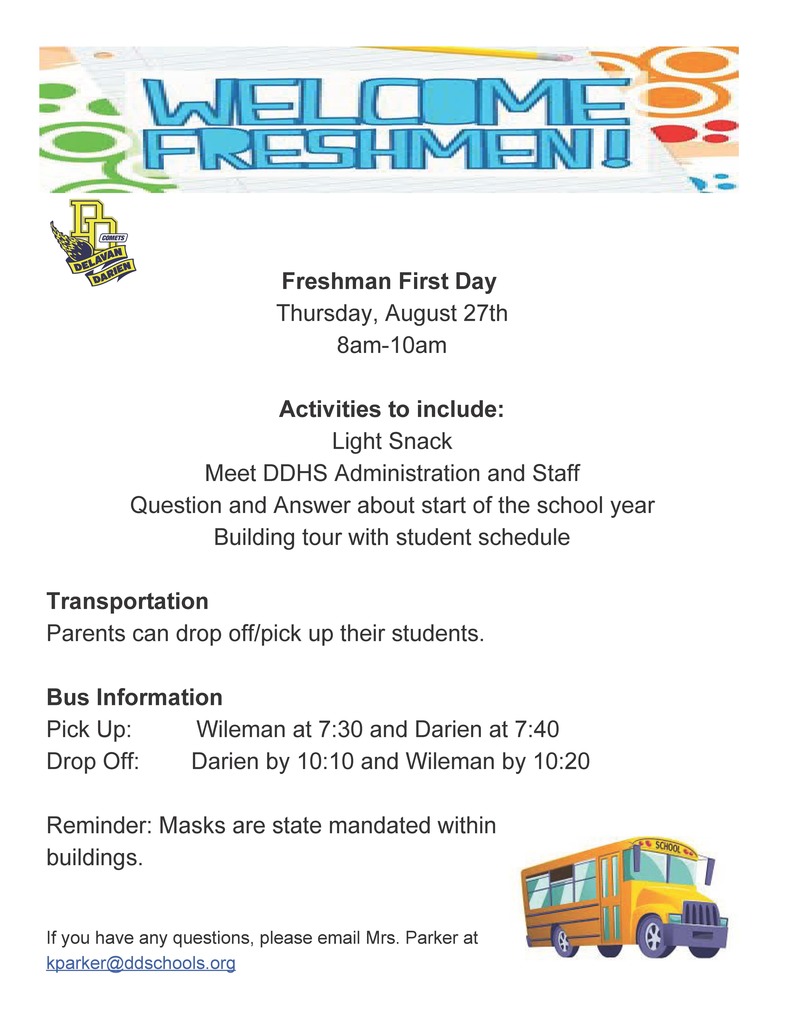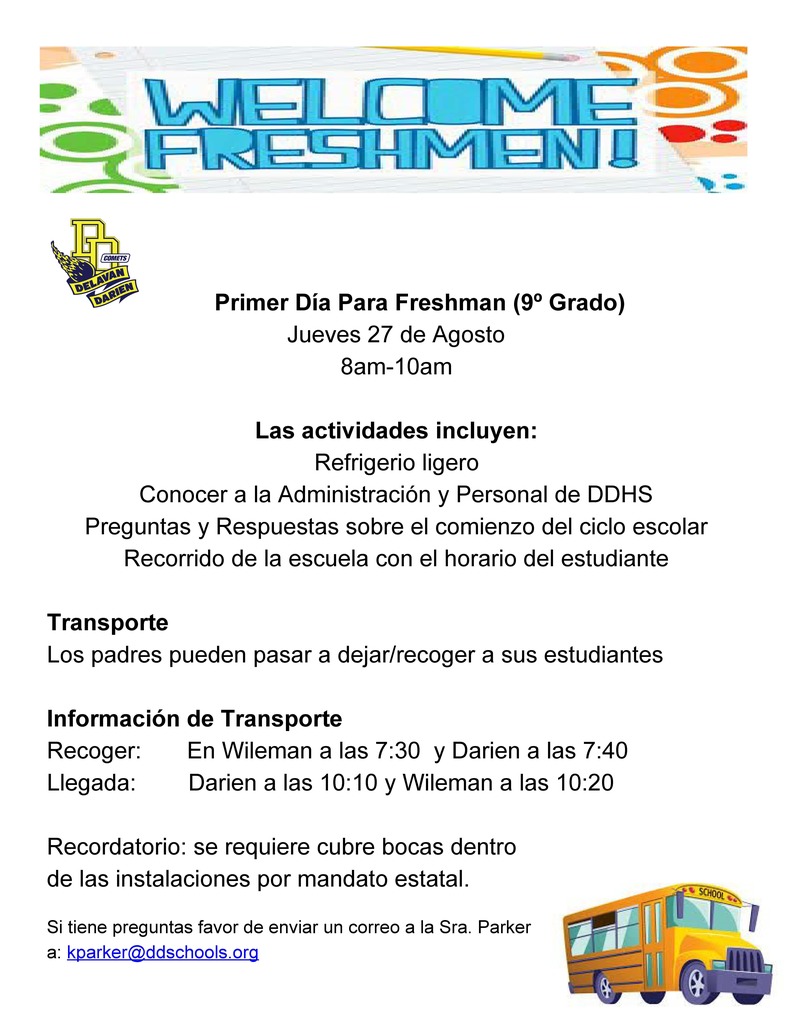 Attention Girls Swimmers! Practice begins this coming Monday, August 17. Use this link for more details:
https://5il.co/jg14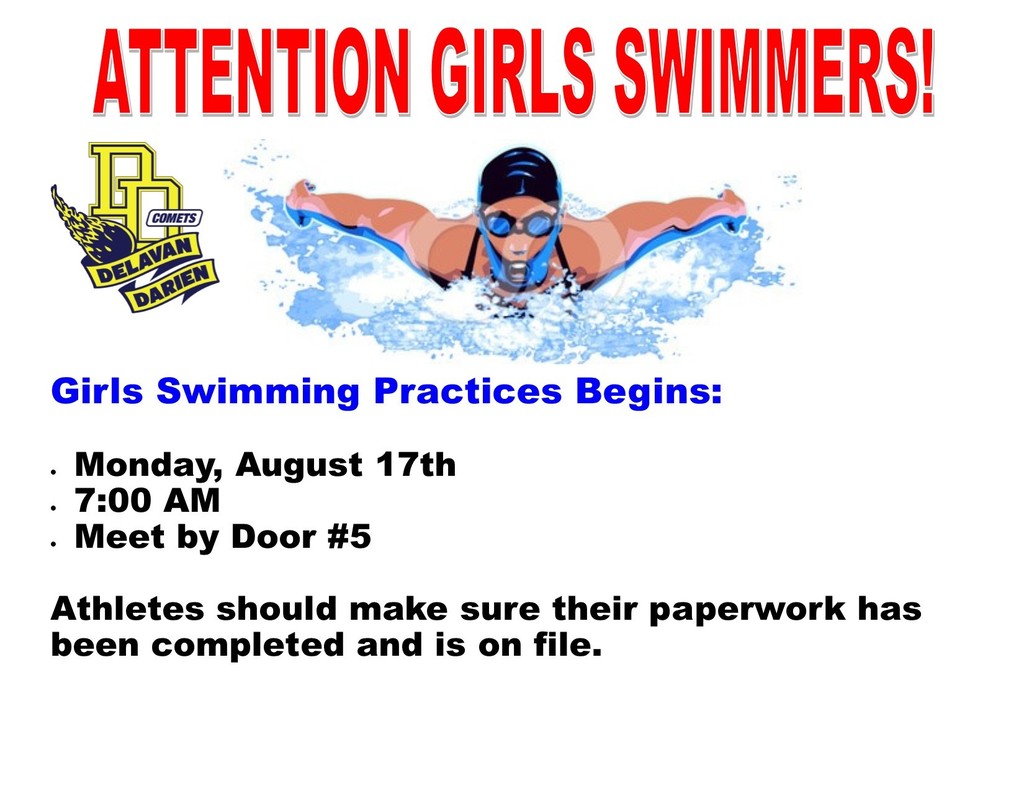 Delavan-Darien High School is ready and excited to welcome back all of our students for the 2020-21 academic year. We are now prepared to begin with our incoming freshmen (the Class of 2024). We are encouraging all incoming freshmen to attend a two hour welcome to DDHS on Thursday, August 27, from 8-10 AM at DDHS. A light snack will be provided and students will be able to receive their schedules, meet their teachers and tour the building in small groups. Parents may drop off/pick-up their child or bus transportation will be provided as follows: 7:30 AM pick-up at Wileman (drop-off at 10:20 AM)4 7:40 AM pick-up at Darien Elementary School (drop-off at 10:10 AM) If you have any questions, please reach out to Mrs. Parker at
kparker@ddschools.org
.

Girls Tennis Practices begins on Monday, August 17th, from 5:00 - 6:30 at the DDHS tennis courts. Athletes should make sure their paperwork has been completed and is on file.

Attention DDHS parents & students. If you are planning on going out for an athletic team please use this link to review our preseason presentation and information that in other years is done in-person:
https://5il.co/j45a

DDHS held an in-person graduation ceremony this morning at Borg Stadium. Congratulations & Good Luck Class of 2020. #CometProud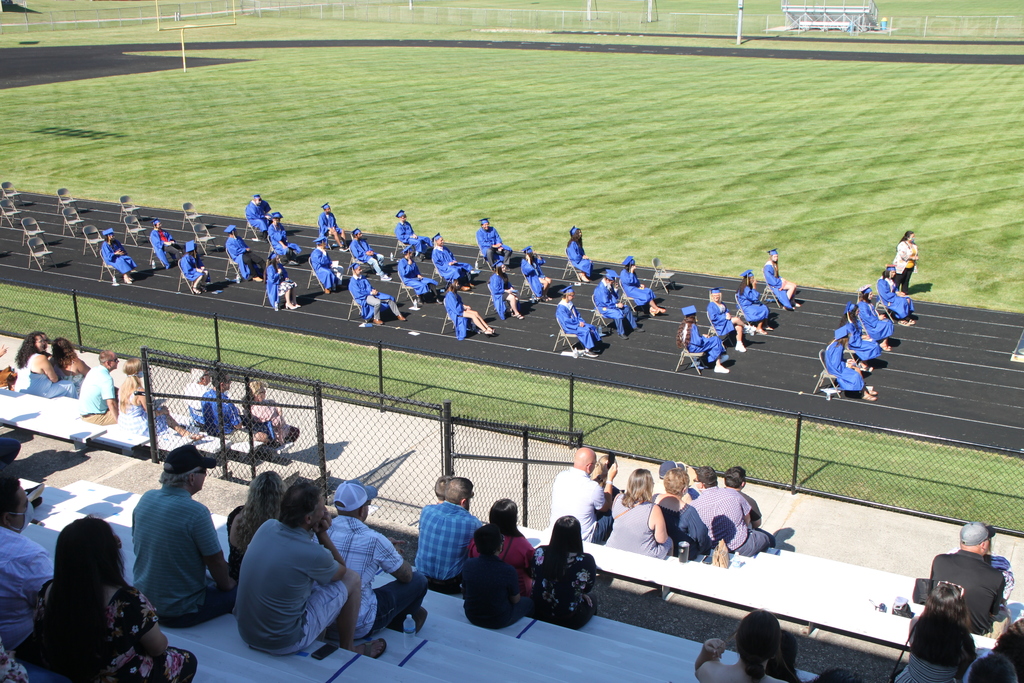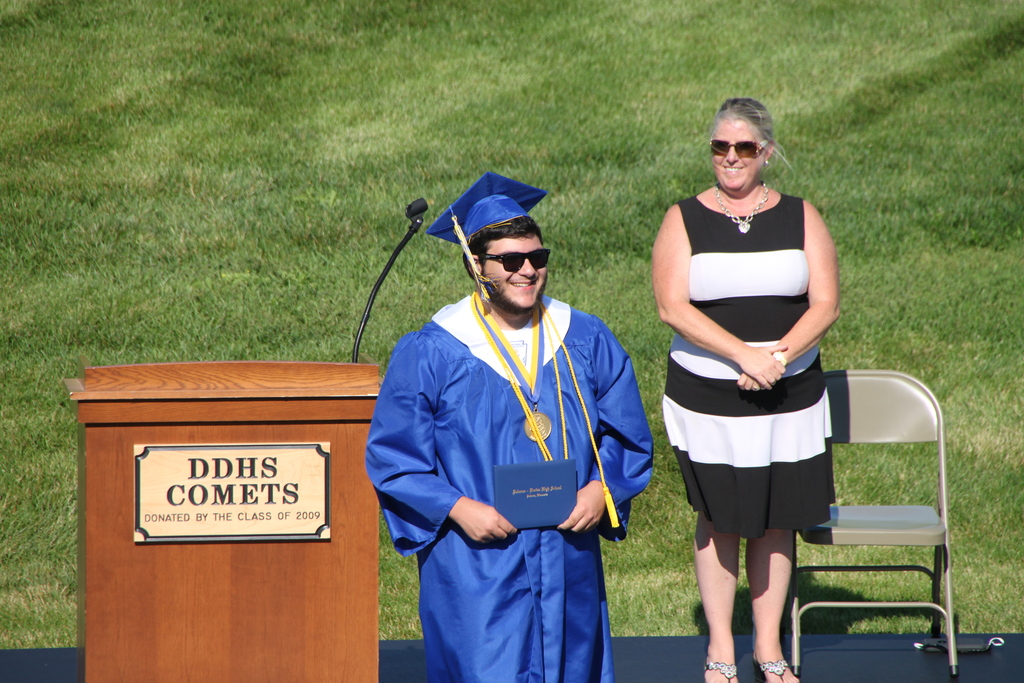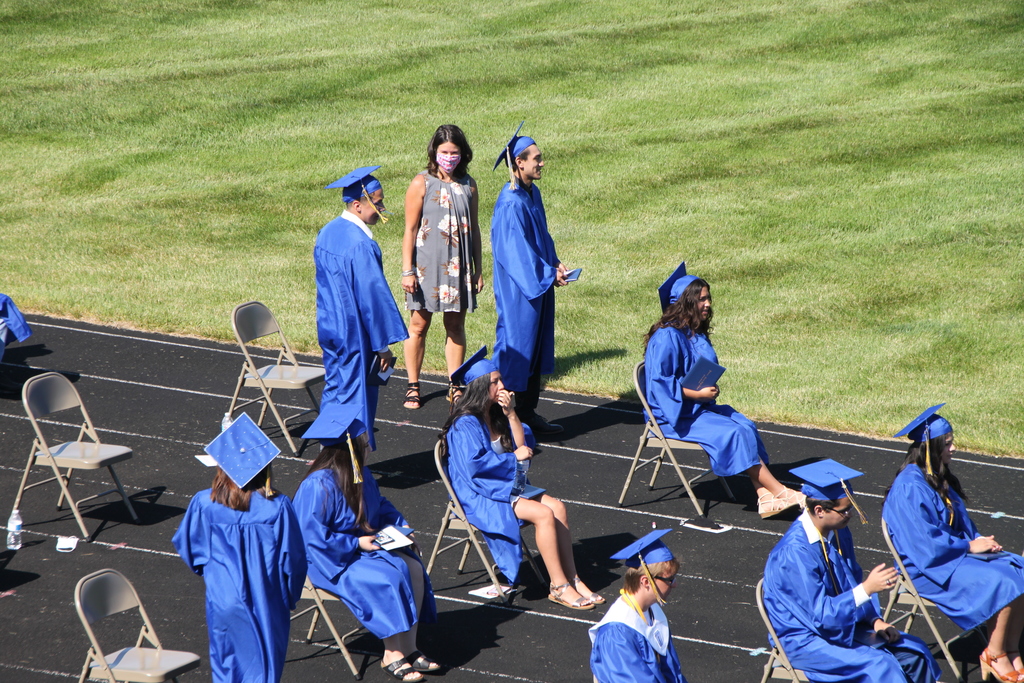 DDHS Class of 2020 Celebrated - Thank you to the students and families that joined us for our Graduation Celebration this morning! Thank you, as well, for abiding by our social distancing efforts and helping keep all in attendance safe. Have a wonderful summer!!!

DDHS Celebrates 2020 Graduates - YES! DDHS will be celebrating their Class of 2020 with an in-person graduation ceremony at 9 AM on Friday, July 17. Weather looks great. To attend, up to four people must accompany the graduate into the stadium.

Repairs on the gym roof at DDHS began this morning. Due to several leaks and other needed repairs a new roof will be on by the start of school in September. #CometProud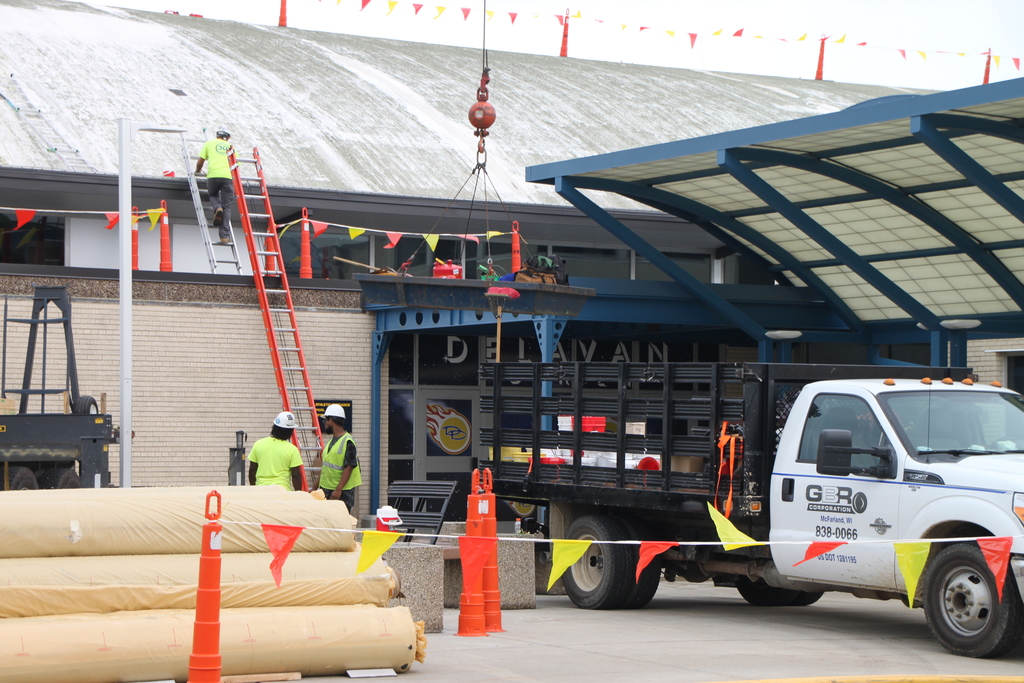 DDHS To Celebrate In Person Graduation - July 17 (rain date of July 18) All graduates in the DDHS Class of 2020 are invited to participate in the July 17 (or July 18) ceremony which begins promptly at 9 AM in Borg Stadium. Emails have been sent to students and parents of all graduates. Only 4 immediate family members per graduate will be permitted in the stadium Please see the high school web page "News Feed" for more information.

Delavan-Darien School District Virtual Program Enrollment Begins for the 2020-2021 school year. For more information use these links: English:
https://5il.co/hx4b
Spanish:
https://5il.co/hx4c

DDHS Graduates (Class of 2020) - Advanced Auto Clinic has teamed up with several local businesses and made a gift package for every graduate. Each Grad can stop by Advanced Auto Clinic at 1101 Ann Street in Delavan to pick-up their gift package. The first 100 Grads to pick-up their gift will get an extra bonus in their gift package and the first 50 will get a FREE Donut and Coffee from Delavan Citgo. Every Grad that comes to get their gift package at Advanced Auto Clinic will need their student ID and they will have the chance to win one of 40 FREE Oil Changes sponsored by Delavan Napa, Valvoline Lubricants and Advanced Auto Clinic. You have until July 3rd to pick up your gift package and the drawing for the 40 FREE oil changes will be done on July 6th. Gift package includes: 5.00 Gift card to TNT Ace Hardware Free Sundae at Culvers Free Slushie at Anchor Inn Free Iced Coffee at Dunkin 10.00 Gas Card to one of these local gas stations: Country Station in Darien, Del-mart Phillips 66, Delavan Citgo or Delavan Mobil.