EDIT MAIN
DDSD November 2018 Referendum Information
Originally On the Ballot
Ballot Text: Shall the School District of Delavan-Darien, Walworth and Rock Counties, Wisconsin be authorized to exceed the revenue limit specified in Section 121.91, Wisconsin Statutes, by $2,800,000 per year for four years, beginning with the 2019-2020 school year and ending with the 2022-2023 school year, for non-recurring purposes consisting of operational costs to reduce class sizes, and support curriculum and instruction?
What will the Operational Referendum cover?
Hire 18 staff to reduce class sizes

6 Teachers grades 1st – 5th @ approximately $79,784 with benefits
12 Teachers grades 6th – 12th @ approximately $79,784 with benefits

Offer competitive programs to meet state standards
Update curriculum materials to meet today's state standards
Open and collateralize a line of credit to provide vital cash flow for ongoing operational needs
More specific details below or click here to view as a separate document:
What Will It Cost?
If approved, the school tax is estimated to increase by approximately *$75 per $100,000 of property value for the first year (2019/2020), and is expected to decrease over the next three years.
*Based upon enrollment remaining flat and a 2.8% property increase
Accomplishments
Delavan-Darien School District had top marks in Walworth County [LINK TO DISTRICT REPORT CARD PAGE] on the state's School Report Card ratings for 2016-17. The district's score of 82.3 shows the schools were "Exceeding Expectations!" The score was less than a single point away from the highest category of "Significantly Exceeds Expectations."
Phoenix Middle School did achieve the highest category ranking, with a school score of 85.0. That's the top score in the county among traditional grades 6-8 middle schools!
The district achieved high scores primarily as a result of high student academic growth in the areas of reading and math at all tested grade levels.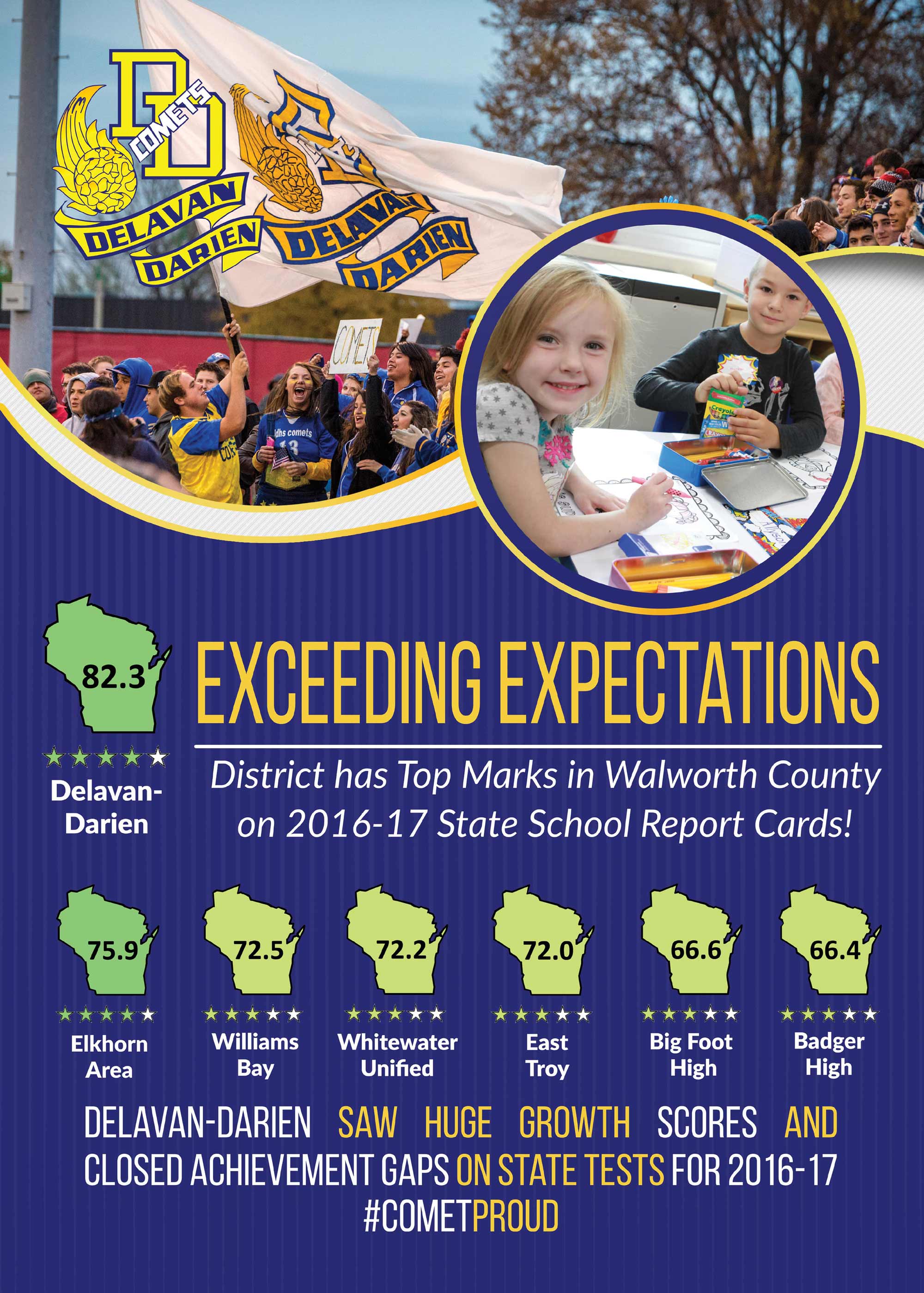 DDSD Points of Pride 2017-2018
Wrap Around Licensed Daycare in our Early Childhood, 4K and 5K
16 Advanced Placement Courses offered for College Credit
Only Choice Dual Language Program in Walworth County 4K-5th
Wisconsin School Psychologist of the Year Winner
Stat recognized Community Learning Center program supporting our 1st through 4th graders after school in Reading, Math, and Hands-on Science
Award-Winning Music Department
State runner up for Boys' Soccer in 2017-2018
District received Exceeds Expectations on 2017-18 State Report Card and Phoenix Middle School ~ Significantly Exceeds Expectations in 2017-2018
1 of 600 Schools Nationwide Awarded Gold Standard School Finance Program